• Background
• Buy DIY Kit
• Kit Instructions
• Schematics
• Gallery
• Contact Us

Get a WT Kit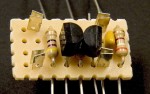 Project Phases:
Distribute parts / kits to the public (at cost) to aid in development / design brainstorming.
Create and foster relationships with individuals who can assist in the production and distribution of the WorldTorch to those in the most neet.
Create a final "Prototype" torch to use in the test system.
Setup a test system and monitor the results / feedback.
Refine the torch / system and repeat the last few steps.
Start distribution to bring light to the world!
Why use LEDs?

Lower costs: cheaper to buy and using only 5 - 10 per cent the energy of incandescent bulbs.

Long lasting: with a service life of around 100,000 hours, so maintenance is an easy task

Better quality light output: minimum ultraviolet and infrared radiation

Safer: there's no heat, noise, vibration or high voltage

Smaller: their high intensity and low weight and volume, make them useful for lighting tight spaces

DC power supply: no flicker.

Flexibility: more imaginative lighting designs are possible.

WorldTorch Requirements:

Ease of use

Ease of maintenance / repair

Low total cost

Safety

Ease of duplicatability

Powered by renewable / non-poluting energy (solar, pedal, hydro, etc.)